Kat Morris
Scholar-Activism︎︎︎
Engagement︎︎︎

Organizing︎︎︎

Let's Collab︎︎︎
Katharine (Kat) H. Morris is a scholar-activist for intersectional environmental justice with her Master of Public Policy from the University of Connecticut. She founded UConn Collaborative Organizing (UCCO) to promote solidarity and intersectionality in social and environmental justice movements. Her TEDxUConn talk, How to Collaborate for Environmental Justice, is a call to action discussing environmental racism, health inequities, and how to organize your community using radical love and intersectionality. Kat plans to someday earn her PhD using cognitive science to strengthen collective efficacy and policy action at the intersections of environmental justice, health equity, and climate action. These days, she organizes grassroots and legislative action and speaks on various panels and podcasts, while serving on the steering committees for CT Renews and CT Climate Crisis Mobilization.
Following her most recent positions as the policy intern for CT's Health Equity Solutions and Sustainability Fellow for the U.S Environmental Protection Agency, Kat served her Helen Gurley Brown Fellowship at CEEJH, the Center for Community Engagement, Environmental Justice, and Health. She organized the Seaside Sounds for Environmental Justice community empowerment festival at Seaside Park on July 15th, 2022 featuring 9 musical acts, 30 organizations and vendors, and 4 delicious foodtrucks! Kat was appointed to the Connecticut Equity and Environmental Justice Advisory Council (CEEJAC) then consulted as a Governor's Infrastructure Investment and Jobs Act (IIJA) Advisor stationed in the Office of the Commissioner at DEEP. Today she organizes to
Save Bassick High and is accepting client for her small consulting business, Morhkat, LLC!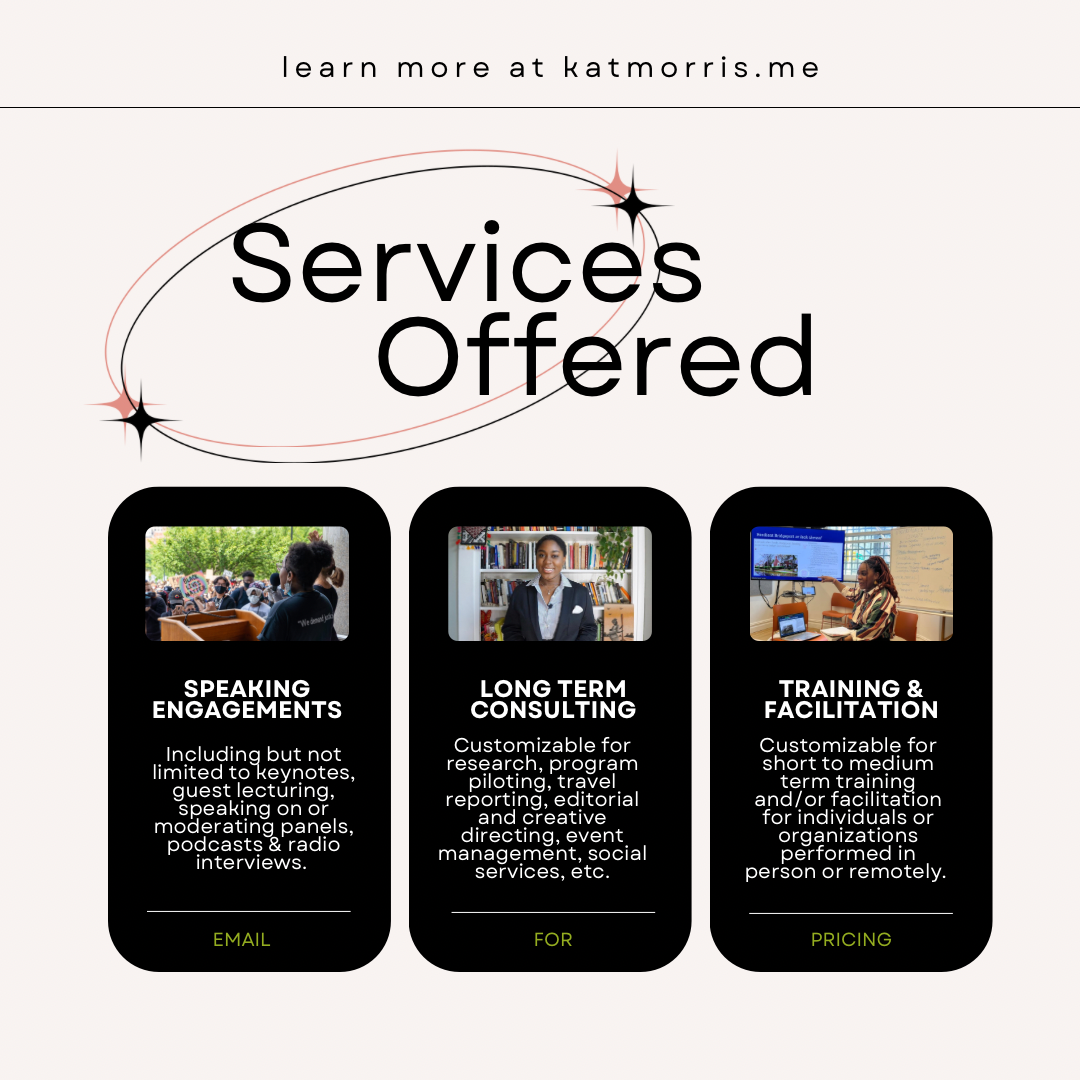 More importantly,
Kat is a tree-hugging hippie, queer pisces daughter of jamaican immigrants whose love for nature is comparable only to her love for music, food, astrology, laughter, and learning about life through meaningful connections and longwinded conversations!